Great News!! The latest VELUX promotion is now live! Get £35 of VELUX Rewards every time you buy a VELUX white painted roof window, and a huge £70 of VELUX Rewards every time you buy a VELUX INTEGRA electric or solar roof window this MARCH AND APRIL! T&C's apply.
In 1942, engineer Villum Kann Rasmussen patented his first roof window. He called it VELUX – 'VE', from the word 'ventilation' and 'LUX', from the Latin word for 'light'. Now, over 75 years later, VELUX Group is an international organisation of 10,000 people in more than 35 countries.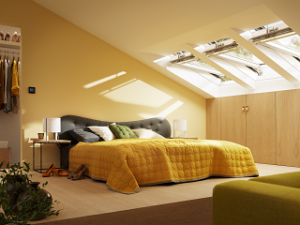 Mac's Builders Merchants is proud to be the Isle of Man's premier stockist of VELUX products. Our experienced and knowledgeable staff will help you find the right fit for your home.
You can place a Velux order by phone or via our click and collect web store HERE. For more information, call or pop in to our St John's branch, or visit the official VELUX site.

VELUX and the VELUX logo are registered trademarks of VKR Holding A/S